Book of ME! This is the "What's in a Name" page. I still have to add a few more emblishments to it but I really like the colors.
This is a thank you card I made for my niece - well 25 of them - for her to give out after her baby shower.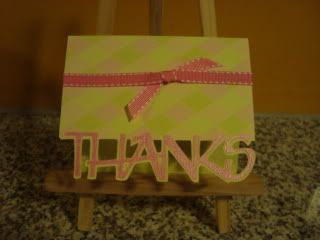 Sista challenge......
Your challenge … if you choose to accept is to create an 8x8 LO of yourself with the word Sista on the page…..for my Sista Scrapbook. You cannot use the Cricut or any Provocraft products…back to the basics with old fashion scissors, stickers, chipboard and punches, etc.... Scrap your stash….I would also like for you to include the dahlia fold in your LO…this is one of my favorite techniques..check out this video below…. If you do not have a circle punch that will be the only exception for using the Cricut.
Sista challenge. This is using the faux quilt technique.